Lady Valentine here (the newbie) and I'm so excited to introduce and interview one of my favorite contemporary romance writers, Carly Phillips. I got hooked on Carly's amazing writing with her HOT ZONE series and now I
camp out at Target
eagerly await each new book of awesomesauce.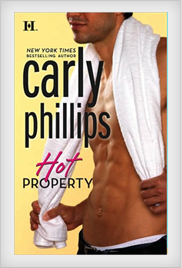 Great Inspiration, right?
One day while
stalking
following Carly on Twitter, I learned that her newest book,
SERENDIPITY
, was hitting bookstores and e-readers in September. Of course, I jumped at the chance to invite her to Lady Scribes. Cue fan-girl moment when THE CARLY PHILLIPS emailed me back.
Usually, I do my five, but in keeping with the theme of SERENDIPITY, DESTINY, and KARMA, I decided not to tempt Fate and go with a lucky number.
Seven with Carly:
1. What has been your favorite series to write? Was there a particular couple whose journey resonated with you?
I think each series is my favorite as I'm working on it or promoting it. Maybe that sounds silly but it's so hard to pick just one favorite! So of course right now Ethan and Faith's journey in SERENDIPITY resonated. Of all my couples, they felt SO meant to be. I just adored writing them!
2. From your Twitter feed, you seem to be slightly obsessed with daytime dramas. (You can read Carly's interview with Soap Opera Digest here.) How do you balance your obsession with meeting deadlines?
My obsession helps me meet deadlines! I write with the TV on in the background, the ABC soaps in particular. AS I write this, we are going into the last week ever of All My Children and I'm so sad. I don't know how I will write without it and then I lose One Life to Live in January.
3.Tell us about your new series Serendipity.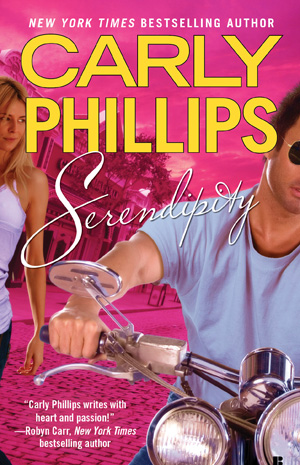 Serendipity is the name of both the series for Berkley and the first book set in a fictional small town in upstate New York. At the center of the town is the landmark Harrington Mansion, the epitome of wealth and privilege. The series opens with SERENDIPITY, which introduces readers to the estranged Barron brothers, brought together by a teenage sister they didn't know they had and family drama they haven't yet put to rest. These books tap deeper into emotions than my more recent books while keeping the trademark sensuality and light moments my readers expect. Book one, Serendipity 9/11 is the story of Ethan Barron, the "bad boy" oldest brother. Ethan returns home after ten years and finds himself tempted by the girl who was too good for him in high school, but now their social status are reversed, as he now owns the Harrington mansion - in which she grew up. At heart, Serendipity is the story of a man who is looking for redemption and a woman in search of a place to belong.
4. What was it like to see your book, THE BACHELOR, as Kelly Ripa's "Reading with Ripa" pick on a nationally televised show?
The Kelly Ripa experience, when she chose THE BACHELOR as the first Romance in a nationally televised bookclub, that gave me the OOMPH to believe in myself! It was a dream come true. I have the whole story on my website on
the Diary of a Cinderella Story
. But the highlight for me was meeting Kelly Ripa who I have adored since her All My Children Days. Kelly's bookclub gave me a huge push and I've worked hard ever since to do well since in reality, that kind of success can never be replicated.
5. I read on Twitter that you were dying your hair red- does this mean redheads have more fun than blondes?
Hah! I haven't been red long enough to know! So far I'm happy though!
6. What advice do you have for writers still searching for that perfect agent or publishing path?
Don't give up. Believe in yourself. Keep learning. Keep growing. Don't hinge all your hopes and dreams on one book. Finish one, submit and write another. No agent is better than a bad agent. I could go on and on, LOLOL! Just plain perseverance!!!
7. Would you ever consider co-writing a contemporary like Julia Quinn, Connie Brockway and Eloisa James did in the novel THE LADY MOST LIKELY? It was unlike anything I've ever read because the story line didn't stop with each author- it was almost like one of those campfire games. And I would love to see that in a modern day setting.
I don't know! I'm pretty attached to my own writing and my own process … but who knows!
Pondering with Carly:
Why is Romance considered a four letter word?
Good question. One I've yet to figure out an answer to. I may get in trouble for these musings … people who degrade Romance don't know or understand it. They think they need to read "high brow' literature or things they should read instead of things they truly enjoy. OK some people truly love other things – but that doesn't make Romance "less than"!
While vacuuming why do people bend over to pick up a small piece of string stuck on a rug to move it, only to let it go and try vacuuming it again?
Not a clue, LOL.
Twitter- Social media platform or addiction?
Social media platform. I've seen it work! That and of course I'm plain addicted ;)
How much do you pay those plotmonkeys to think up ideas?
Plenty of bananas!
Thank you so much for taking the time to join Lady Scribes today and answer my questions. I hope you'll come back when DESTINY and KARMA, the next novels in your Serendipity Series, come out in January and May.
I'd love to return and thank you!
Carly Phillips is the New York Times Bestselling author of over 30 romance novels with contemporary characters and plotlines that today's readers identify with and enjoy. Carly is a stay at home mom of 2 daughters (now almost old enough to read her books!), one soft coated wheaten terrier and a brand new Havanese puppy. She's a Twitter and Internet junkie and is always around to interact with her readers. More information on Carly can be found at http://www.carlyphillips.com/. Around the web you can also find Carly at:
Twitter: www.twitter.com/carlyphillips
Facebook: www.facebook.com/carlyphillipsfanpage
Blog: http://www.plotmonkeys.com/
Today, I hold in my hot little hands a copy of Carly's latest novel SERENDIPITY and will be giving it away. To enter, leave a comment and your email address. Thanks and good luck!