Today is my day to blog and it just so happens to coincide with the day that Carly's latest

Serendipity Series

novel,

DESTINY

, releases. So I invited the Contemporary Romance Writer

Extraordinaire

to come by Lady Scribes so we could share in the celebration.
7 Lucky Questions with Carly:
Marquita Valentine: I read an interview where you said that you couldn't write a Paranormal Romance due to the massive world building involved, but I have to respectfully disagree! You've done just that with the town of Serendipity. Is there a certain town that it was the modeled after?
Carly Phillips: Well thank you! But you have no idea how hard it is for me to keep things straight. Even when I keep a notebook, and I always do, I get ages wrong, hair color, eye color ... if I can't do the basics, how can I build a world of people new to me and to everyone else LOL! Serendipity is in my head, it's every town I've been in or passed through that left a mark on me!
MV: How's life treating you as a redhead?
CP: LOL. Still trying to decide. One part of me knows its more flattering with my coloring. Another part of me just likes blonde hair. But all's good. The family likes it!
MV: Who told you about my family How in the heck did you come up with two people with the same half-sibling BUT NOT RELATED falling in love?
CP: Hah! Very good question! They found each other. Honestly. :) Nothing more complicated than that. Until I had to write them and explain it in case people hadn't read Serendipity ... LOL!
MV: What are Kelly and Nash's biggest strengths as individuals and as a couple?
CP: Kelly's biggest strength personally IS her strength - she raised her sister and had the courage to do what was best for her. Nash's biggest strength as an individual is his loyalty to those he cares about. There is nothing he wouldn't do for the people he loves, no matter how misguided his way of looking at things is. Together their biggest strength is how they understand each other - what I loved about writing these two characters was how they instinctively knew what the other one needed and gave it without question or reservation. I thought they were made for each other!
MV: Is staying totally pop-culturey, yo ;) while remaining timeless difficult to do as a Contemporary Romance Writer?
CP: Sometimes I have to ask on Twitter if a reference I use is too old for people to recognize. Other than that, I have two teenage daughters so for right now, pop culture is easy to keep on top of. I'm kind of into that so it helps the writing.
MV: Which scene did you love writing the most in Destiny (besides their Happily Ever After)?
CP: The scene that stands out most in my mind is the one where Kelly's mom shows up. Her anger and how the brothers protect her (and Tess) and calm her down, even as Nash is slowly realizing his life is falling apart … that stuck with me. And I remember loving Kelly's emotions and reactions as I wrote it!
MV: As a savvy veteran (this does NOT imply age) of the publishing industry, how important is it for a debut author to be accessible to her fans via Social Media?
CP: I want to say very important - for a number of reasons. First, you aren't going to get publishers throwing a ton of money to make your name recognizable. The best way to do that is to befriend other authors and bloggers - in a GENUINE way, not in a read my book kind of way. Nothing is more irritating than someone who spends all their time on Twitter saying read my book. The reading part should come naturally if what you write appeals to the people you are talking to on various social networks. One new author who did this well is Jessica Scott - I "met" her on Twitter long before her first book came out and then we met in person at RWA and next thing I know, I'm reading her book and tweeting about it. Word of mouth is the best way to sell a book. It's old fashioned except for one thing - the new way of communicating is much faster - and so of course word spreads quickly!! Facebook is like a second website these days. Authors are able to make them have more than just text appeal and info goes out quicker than on a website. That said, nothing replaces an author's website as a means of communication.
Thanks Carly for a great interview, and for letting us celebrate DESTINY's release with you!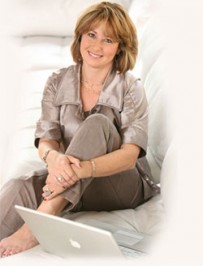 New York Times bestselling author Carly Phillips tossed away her legal briefs and a career as an attorney to become a stay at home mom. Within the year, she turned her love of reading into an obsession with writing. Over 25 published novels later, Carly writes sexy contemporary romances, striking a balance between entertainment and emotion, and giving her readers the compelling story they have come to expect and enjoy.
Carly is a New York Times bestseller, USA Today Bestseller and Publisher's Weekly bestseller. The triple play earned her a spot on Romance Writers of America's coveted Honor Roll. In 2002, Carly's novel, The Bachelor, became Kelly Ripa's "Reading with Ripa" pick on Live with Regis and Kelly, making it the first romance ever chosen on a nationally televised bookclub.
Carly received her undergraduate degree from Brandeis University and is a graduate of Boston University School of Law (J.D.). To date, Carly has over twenty-five novels to her credit, all available wherever books are sold.
When not writing or playing online, Carly loves to read, to knit, and to spend time with her family. She lives in Purchase, New York with her husband, two daughters and two soft-coated wheaten terriers who act like their third and fourth children.
Around the web you can find Carly at:
Twitter: www.twitter.com/carlyphillips
Facebook: www.facebook.com/carlyphillipsfanpage
Blog: http://www.plotmonkeys.com/
Which format do you prefer to read Carly's amazing novels in--print or e-book? One lucky commentor will win a copy of DESTINY (in his/her preferred
format).
Thanks for stopping by!