One of the things I like best about being a Lady Scribe is being able to interview my favorite contemporary authors. Authors like the fabulously talented, Carly Phillips. KARMA, the latest novel in the
Serendipity
Series, is hitting bookshelves and e-readers May 1.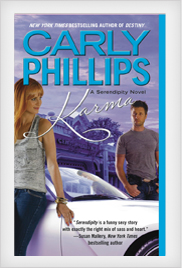 1.
Congrats on your RITA nomination! How does it feel—come down from the clouds yet?
Nope and I hope I never do. Seriously, it's always felt like a dream - to be recognized by my peers and this is what the RITA nomination does. Added to that, the short story nominated, MORE THAN WORDS - VOL. 7 - my story Compassion Can't Wait - recognizes the Andre Sobel River of Life Foundation that provides payment of urgent expenses in order to allow single parent/caregivers to be by their child's bedside during catastrophic illness. I was honored to write a story that showcases such an important charitable organization and Valerie Sobel, the founder.
http://andreriveroflife.org/
2. In your upcoming book, KARMA, Dare and Liza's story seems to be one of unrequited love—mostly because Dare's been keeping it himself. Personally, I love it when a hero *knows* the heroine is the one for him, even if he's never shared that little tidbit with her. Tell us more about their story, please!
Poor Dare! He makes life look so easy on the outside but inside he's wrapped up in the past and full of angst. He needs the right woman and he needs to forgive himself for past mistakes. Then there's Liza, who reminds him of his biggest error in judgment, and who he's always been attracted too. Once he gets to know her? Attraction becomes secondary to how much he cares. To me, it's a beautiful thing watching him take care of a woman who's never had anyone look out for her before. And visa versa. I hope readers enjoy Dare and Liza and love them as much as I do!
3. How are things going with bringing/keeping General Hospital where it should rightfully be?
Good - and not so good. Good in that General Hospital was renewed for another year despite dire doom and gloom predictions - hurray! And gloom because their greatest couple (in my mind, anyway), Jason and Sam, are being written without thought to how they have always treated each other. With love, understanding, compassion and kindness - with the occasional lapse in judgment (ie. what I call the Liz - Sam's insanity - era) - what makes Sam and Jason the ultimate couple was how well the COMPLEMENT each other. That's not happening now and I implore the writers to fix things! OK enough of that. EVERYONE WATCH GENERAL HOSPITAL - this is the year to garner ratings and keep it on the air longer.
4. You tweeted that your youngest *just* got her Driver's License. Watch out World! Will this free up more time for you to write?
YES! In New York, they have 6 months of permit/driving practice time and then they take their test - if they pass their driving test, they can drive on their own until 9 PM. Since this is my second time going through this, I KNOW both the angst and worry of having a child driving and the ultimate sense of freedom for them AND me! Right now I pick her up up every day after school, which cuts my day around 2 PM. I can't imagine not having to do that anymore! I hope I can write more (and we can SPRINT more!)
5. Inquiring minds want to know—what color is your hair now?
Hah! More like my website photo - a golden brown w/blonde highlights. I'm so over the red. I'm so over the Keratin straightening. I'm all natural curl and the color most people are used to. ;)
6. Anyone that's ever interacted with you via Twitter, facebook or in person knows that you LOVE romance. *And* that you promote it every chance you get. Do you have a favorite trope or plot device for the hero and heroine to be thrown together? What's one that you haven't done before and have always wanted to try?
As a writer, the EASIEST trope/device is to give the characters SOME kind of connection in the past - this makes their coming together stronger - at least for me as the author. As a reader, I've noticed myself drawn to stories like you mentioned above when you described Karma - the hero KNOWS the heroine is for him even if he's never shared that information with her. In the story I'm writing now (aka Serendipity # 4 - or Perfect Fit - the hero is learning each time he's with the heroine, this THING between them is stronger. It's a very different story - they grow together in the relationship. I'm not sure how to throw the hero and heroine together in the best way - so much of it depends on story - and I'm not sure if there is any one particular thing I've always wanted to try - each book is its own challenge.


7. Finally, what's next for you and your rabid reader fan like, ahem, me? Also, a little birdy on Twitter said you were doing a novella with some other crazy talented writers like yourself. True or False?
Next for me and my rabid reader fan, LOLOL. Thank you! I had no idea I had those ;) Yes! I'm doing a novella - it's gone through some author changes but the final four are myself, Jaci Burton, Erin McCarthy and an author I don't know as well, Jessica Clare. I plan on doing Serendipity characters .. and watch for it, I may ask my readers on Facebook who they most want to read about - www.facebook.com/carlyphillipsfanpage so PLEASE like me there - so you won't miss out when I do. I'm currently working on another three book Serendipity Trilogy - the Cops of Serendipity - the Perfect Trilogy - (Perfect in the titles!) - featuring characters you will meet in Karma - and once Karma is on bookshelves and readers have had a chance to finish it, I'll talk more about who's up next!
WOW!!! So much for us to look forward to in the coming months. Thank you so much for blogging with us again, Carly. You make it so much fun!
Thanks for having me back. I love hanging out with you - as you already know! Here's where to find me around the Internet - I'm a social media junkie! And my website is updated often - if you visit me there, please sign up for both my newsletter and the blog posts so you'll have notice of the most recent news!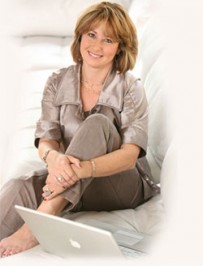 New York Times bestselling author Carly Phillips tossed away her legal briefs and a career as an attorney to become a stay at home mom. Within the year, she turned her love of reading into an obsession with writing. Over 25 published novels later, Carly writes sexy contemporary romances, striking a balance between entertainment and emotion, and giving her readers the compelling story they have come to expect and enjoy.
Carly is a New York Times bestseller, USA Today Bestseller and Publisher's Weekly bestseller. The triple play earned her a spot on Romance Writers of America's coveted Honor Roll. In 2002, Carly's novel, The Bachelor, became Kelly Ripa's "Reading with Ripa" pick on Live with Regis and Kelly, making it the first romance ever chosen on a nationally televised bookclub.
Carly received her undergraduate degree from Brandeis University and is a graduate of Boston University School of Law (J.D.). To date, Carly has over twenty-five novels to her credit, all available wherever books are sold.
When not writing or playing online, Carly loves to read, to knit, and to spend time with her family. She lives in Purchase, New York with her husband, two daughters and two soft-coated wheaten terriers who act like their third and fourth children.
One lucky winner will receive one of my backlist Serendipity books - Serendipity, Destiny, or Kismet as a prize for commenting! And I'm (because I lurve supporting Carly) throwing in Karma, too. Of course the winner has to wait until May 12 for that one, but it's totally worth it. ;)
So, Rabid Readers, what's your favorite way to interact with authors?