Writing is a solitary profession. I sit behind a computer screen and make characters and stories come to life. Alone. At least, that was how I did it for years, relying on email to reach out and talk to writing friends in between working. Waiting for them to write back.
Not any longer. Not since the advent of a little thing called Twitter. Twitter can open up a writer's world and make it a little less lonely. It can give you people to write with. Really! It did all that for me.
In writing PERFECT FIT, I found a group of writers who were online at the same time as me in the morning. Who wanted to write at that time. Who decided it would be fun for us to do what's called a #sprint - meaning at a time when we all agree, we start writing in 30 min increments, checking in at the end of the half hour. Sometimes it's a huge amount of pages/words and sometimes it's a piddly embarrassment. But guess what? That piddly amount adds up. On a good day, we would do 4 thirty minute increments - that's two hours of writing time, four to five days a week.
Thanks to these people who I've never met in person, PERFECT FIT was written. Not so solitary anymore, am I?
The best part of sprinting is knowing there are people relying on me to show up at a certain time, so their books get written too. The side benefit is that my book got written as well. Sprinting taught me discipline. Sprinting got me so into my book I couldn't wait to sit down each day and work. The bad news? When the book was finished and I went through that period of plotting another story, then painstakingly pushing myself through the beginning, (which I hate) discipline fell by the wayside. I had to start all over again and relearn how to #sprint. How to show up every day. But I managed. Want to know why? Because my #sprinting partners were there. Waiting.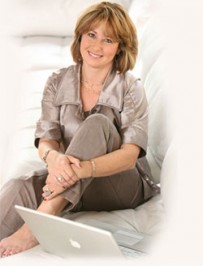 New York Times bestselling author Carly Phillips tossed away her legal briefs and a career as an attorney to become a stay at home mom. Within the year, she turned her love of reading into an obsession with writing. Over 25 published novels later, Carly writes sexy contemporary romances, striking a balance between entertainment and emotion, and giving her readers the compelling story they have come to expect and enjoy.
Carly is a New York Times bestseller, USA Today Bestseller and Publisher's Weekly bestseller. The triple play earned her a spot on Romance Writers of America's coveted Honor Roll. In 2002, Carly's novel, The Bachelor, became Kelly Ripa's "Reading with Ripa" pick on Live with Regis and Kelly, making it the first romance ever chosen on a nationally televised bookclub.
Carly received her undergraduate degree from Brandeis University and is a graduate of Boston University School of Law (J.D.). To date, Carly has over twenty-five novels to her credit, all available wherever books are sold.
When not writing or playing online, Carly loves to read, to knit, and to spend time with her family. She lives in Purchase, New York with her husband, two daughters and two soft-coated wheaten terriers who act like their third and fourth children.
You can find Carly all over the web:
One lucky winner will receive one of my backlist Serendipity books - Serendipity, Destiny, Karma or Kismet (e-only) as a prize for commenting!